Battling with several loads of laundry at the same time is a challenge even for the most hardened warriors among us. But doing it in a tiny laundry room? Now that's an adventure reserved only for the most legendary of heroes!
We see your laundry room: squeezed, crunched, and all too often cluttered. That's definitely an embossed invitation for a heroic laundry quest.
If that's not your idea of a good time, then we've got the laundry room organization ideas to help you make your small laundry room more space-savvy, efficient, and functional!
But even the best of our small laundry room organization ideas can't undo months—maybe years—of grime, clutter, and general disorganization. This article will give you tips on how to get the fresh start your laundry room deserves.
The laundry room makeover
Organizing a messy laundry room isa tedious task. But think of all the future laundry days you're going to have once this is over.
Imagine breezing through with your neatly-stacked shelves, spacious counters, and the joy of knowing exactly where to find that one odd sock!
That can be you—but first, you'll have to give up one lousy afternoon to get everything cleared out and organized! 
Clutter begone!
Laundry rooms take on all sorts of clutter over time. This can range from papers, tools, and toys lying around, to hampers and boxes overflowing with mementos or forgotten items.
Clear out all that stuff you don't need before organizing the space.
Assign a place for everything
Once the laundry room is clutter-free, it's time to start assigning each item a home. This can be as simple as labeling shelves and drawers, or mounting a few wall organizers to keep cords and tools in place.
Wipe down all surfaces
Don't waste all your hard work by forgetting to wipe down the surfaces after organizing. A good start is to use a dry microfiber cloth for everyday dusting, and switch over to an all-purpose cleaner once or twice a month.
Keep it tidy
You don't want to go through the whole tedious process of decluttering and organizing all over again. So be sure to maintain the tidy state of your laundry room by wiping up spills and putting away items right after you use them.
Laundry Room Organization Ideas That Work
Whether it's a miniscule closet, a tight corner somewhere in the house, or a standalone room, there's a world of laundry room organization ideas out there, just waiting to save the day!
Hold on to your laundry baskets! Here are our top five best tips and tricks to maximize space and improve efficiency in a small laundry room:
Morph your bathroom and laundry room into one
Ever fantasized about sprawling out in a spacious, lavish bathroom after enduring an afternoon in your laundry room that feels more like a sardine hotel? How about we shake things up a bit and fuse your bathroom and laundry room into one super-efficient, multi-tasking haven?
You see, these two rooms are like long-lost twins who both crave storage. So, by merging them, you're hitting two birds with one stone. Go wild with shelves or tiny cupboards and stash away your towels, toiletries, cleaning supplies, and laundry knick-knacks. It's like your bathroom and laundry room are having a little party, and storage is the VIP guest!
Hang a pegboard or rail system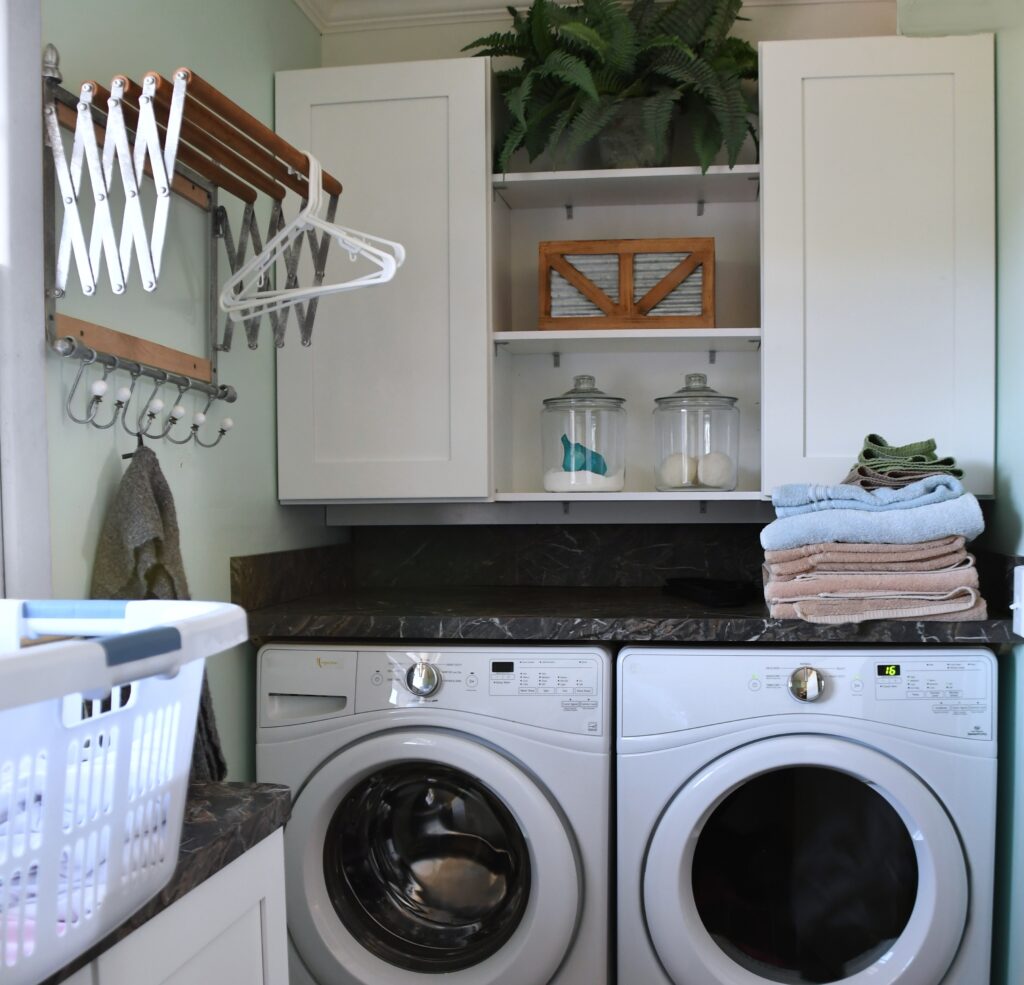 If you don't have enough room to combine your bathroom and laundry, consider using a pegboard or rail system to keep all of your tools and supplies neatly organized.
This is especially useful for those short on counter space—just hang any cleaning bottles or tools up high so they're out of the way and you always have a clear work surface.
Use a Lazy Susan
One of our favorite low-key laundry room hacks is a Lazy Susan storage.
Place the revolving tray on top of the washing machine, where it will help you keep track of all the little odds and ends that tend to go missing the moment you need them. Fabric softener sheets, detergent pods, stain removers, and whatever else will always be within arm's reach.
No more surprises as you're rummaging through the deepest, darkest recesses of your shelves and drawers!
Decant everything
You know you have a problem when your laundry room looks like a grocery store aisle.
Instead of struggling with a sea of plastic bottles and jumbled cans, decant them into easy-to-pour containers or scoopable canisters. This way, when you're in a time crunch and need that detergent ASAP, it'll be right there waiting for you. No more guessing games!
Go vertical, go stackable
Is your high ceiling looking down on you in disdain as you toil away in your little laundry room day after day? Teach it a lesson by roping it into active duty!
Just a couple of floating shelves, reaching all the way up to your ceiling, can carve out space you just didn't know you had.
The best part? They're like space ninjas, tucking themselves in the corner, sneakily freeing up tons of room for you to twirl around your laundry room!
Stackable baskets and hampers also come in handy if there's nowhere else to tuck them away. You can pile up a series of bins and boxes, then give them a good labeling to keep everything nice and neat.
Tired of Being the Laundry Hero?
If you'd rather be the trusty sidekick in your laundry story, let hampr take the reins!
Our flat-rate pricing and battle-tested expert washrs come with zero hidden charges. Whenever, wherever, we'll come get your laundry, wash it, dry it, and bring it back to you fresh and neatly folded—within 24 hours!
Download our app on the App Store or Google Play today!