Drowning in laundry? Let hampr handle it.
Start typing your address, then select an address from suggested google addresses.
Are you still sleeping with clean laundry?
Try hampr Loaded Membership FREE for 14 days
Flat-rate pricing per load plus a convenient app equals zero more laundry for you to do. Phew.
Overloaded with dirty clothes?
Grab a kitchen bag or hampr. Toss 'em in.
Put down your laundry basket. Now all you have to do is grab a 13-gallon kitchen bag or our convenient hamprs, toss your dirty clothes in it, and leave it at your door.
Schedule easily on the app.
One 13-gallon bag = one flat-rate price
Hop on the app and let our washrs know you've got clothes in need of washin'. Our price per load is always the same based on your market, so it's always predictable, affordable, and a tap away.
Our professional washrs will wash your clothes with care and return your items fresh and folded, right back at your door. Ahhh.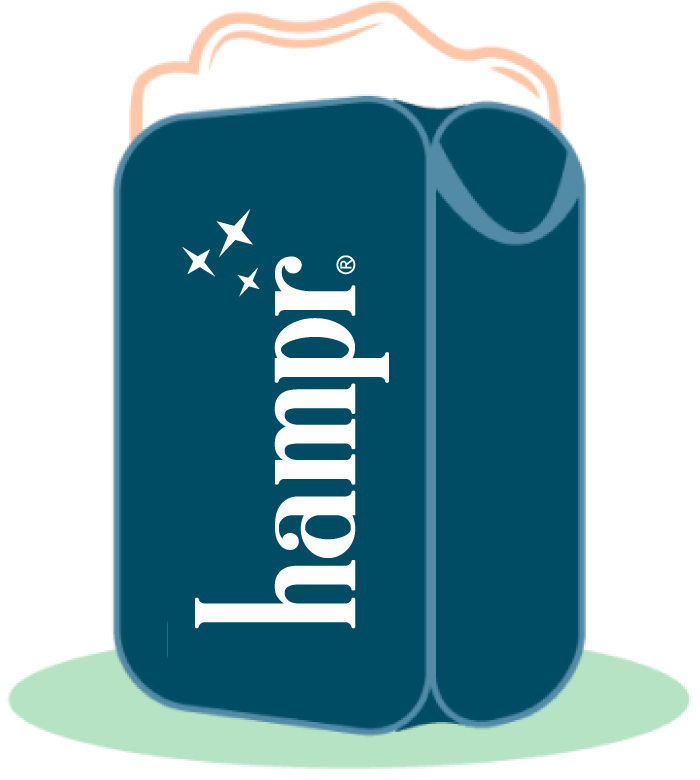 No more precious weekends spent doing laundry
Thanks to hampr, hang with family and friends, work on a passion project, or get some R&R instead.
No more broken laundry machines or busy laundry facilities
Bid farewell to crowded queues or malfunctioning equipment. Get zero-effort, same-day turnaround instead.
No more mental burnout from the perpetual laundry checklist
Clean, folded clothes delivered right to your door and no laundry on your list might be just what the doctor ordered.
People like you are getting their time back.
Over
300,000

loads of laundry or as our competitors like to say 4.7 million pounds of laundry with a

4.9

star average
hampr has been a lifesaver! I no longer have to spend 2 hours or more in a laundry mat, giving me back valuable time to focus on work or spend with family.

Thanks to hampr's weekly help, I have one less task to worry about. The convenience of having my laundry done, folded, and delivered back to my doorstep has been a game changer!
The time I save with hampr is invaluable! My clothes are cleaned and folded without me lifting a finger, and I have peace of mind knowing that it's done with professionalism and care.
hampr Loaded™ Annual Membership
Our annual plan gives you the lowest price per load.
Get hampr Loaded™ on the app.
Get hampr Loaded™ on the app.
Here's a few major cities where you can find hampr—check your address to see if hampr is available near you!
Explore the hampr Blog for laundry hacks, time-saving tips, and fascinating insights about laundry