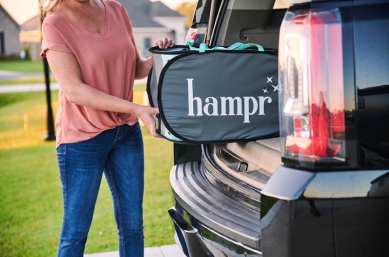 Get paid to do laundry with hampr
hampr is an on-demand laundry service app that connects busy individuals with local washrs who can take care of their laundry needs. As a washr, you'll have the opportunity to be your own boss, set your own schedule, and earn money on your own terms.
If you are ready to join our washr squad, there are a few things you'll need to have in order.
Must be 18 years of age or older
A valid U.S. driver's license
Required to pass a background check
Access to a reliable vehicle is necessary to carry out the job requirements
Capable of lifting weights ranging from 20-30 pounds and able to climb stairs – safety is our top priority
Non-smoker living in a smoke-free household
iPhone (iOS 10 or newer) or Android (5.1 or newer) smartphone to stay connected with our platform
A washing machine that is at least 4.2 cubic feet is mandatory to ensure we deliver quality service
What our washrs love about working with hampr
I enjoy working as a washr with hampr because it gives me the freedom to work at my own pace and set my own schedule. Building connections with my clients is also a great experience. We always communicate, and I've actually made some fun friendships

I enjoy being a washr with hampr because it gives me the opportunity to go to different places each time. I don't feel like I'm stuck doing the same thing and going the same places every day. And eating snacks in between washes is always a plus!
I feel valued and respected as a washr with hampr. The support staff I'm in contact with and the clients we serve always show appreciation for our work. Helping others out and taking care of their laundry the way they like also gives me a sense of satisfaction.
Read frequently asked questions about being a washr.
Yay – thank you for your interest in becoming a washr! We are so excited you are here. Please complete this brief application for next steps!